2022.03.01 Patent
Revision of official fee (patent fee) effective April 1, 2022
Revision (increase) of patent fee effective April 1, 2022
With the enforcement of "Act for Partial Revision of the Patent Act" and "Cabinet Order Prescribing Adjustments to Related Acts to Coordinate with the Enactment of the Act for Partial Revision of the Patent Act", the patent fee will be revised (increased) as below effective April 1, 2022.
The official fee to be revised is only the patent fee, and the fee for filing an application, the fee for requesting examination, etc. will not be revised.
For details, please refer to the JPO website at:
https://www.jpo.go.jp/system/process/tesuryo/kaisei/2022_ryokinkaitei.html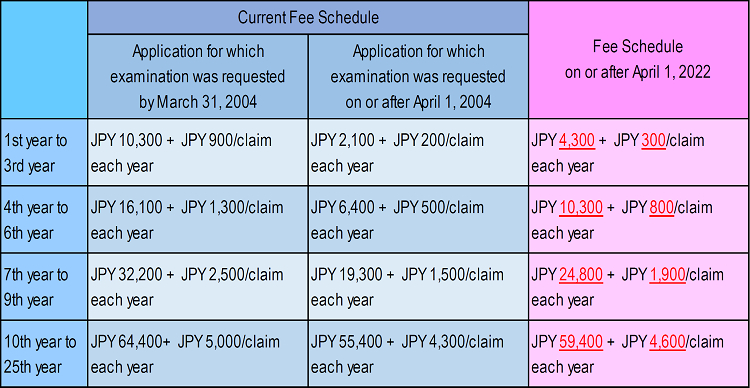 Basically, whether the current fee or the revised fee is applicable is based on the date of payment.
In the case of installment payments, if the payment for the first half is made by March 31, 2022, the current fee is also applicable to the payment for the second half.